Aladdin Limited Edition Collections
Make way for the new live-action Aladdin, in theaters on May 24th. This film is directed by Guy Ritchie and stars Mena Massoud as Aladdin, Naomi Scott as Princess Jasmine, Marwan Kenzari as Jafar, and of course, Will Smith as the Genie. As with any major Disney release, there are plenty of Aladdin themed apparel and merchandise available. Let's take a look at some of the collections.
MAC x ALADDIN
Beauty lovers, your wishes have been granted! MAC has teamed up with Disney and created an entire collection inspired by the movie. From eyeshadows to lippies to bronzer, this collection has everything you need. The packaging for each item is in a gorgeous gold and with intricate details in bright colors to match the color palette of Aladdin.
I'm obsessed with the matte lipstick "Rajah", a muted red berry shade (pictured below). I also purchased "Princess Incognito" which is a beautiful nude pink.
If you love MAC cosmetics, definitely check out this collection, available online and in stores now.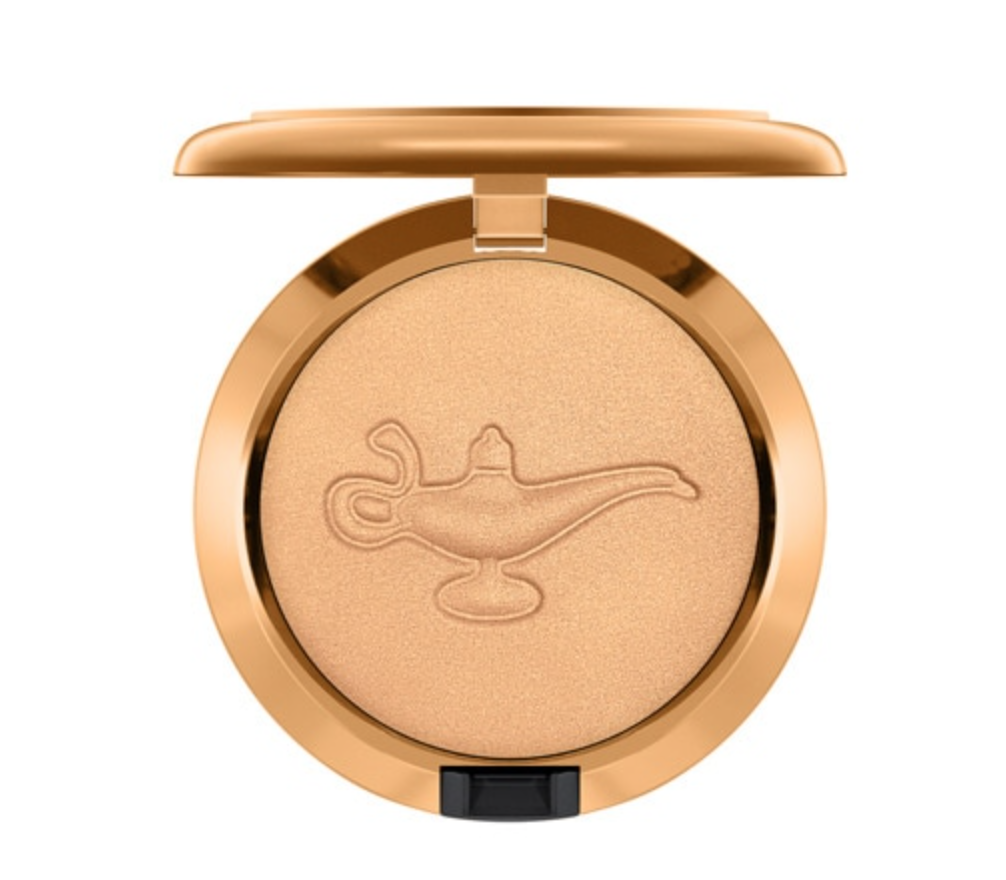 ROCKLOVE JEWELRY
RockLove is no stranger to creating jewelry based on popular movies or characters. Their Captain Marvel jewelry are absolutely gorgeous. If you've been looking for Aladdin themed jewelry, look no further. This collection includes earrings, rings, and necklaces. What I really like about RockLove's designs is the details. You can tell the designers put a lot of thought into each piece and the Aladdin collection is no different. Take a closer look at the Magic Lamp earrings and necklaces. The lamps are hinged so the top can actually open! You can shop the entire Aladdin collection on the RockLove Jewelry website now.
HOT TOPIC / HER UNIVERSE
Long readers of this website know I'm a fan of Her Universe so naturally I'm including some of their merchandise into this post. Since Hot Topic and Her Universe are the same company, I'm including items from both brands into this section. For the apparel, there's a teal romper inspired by Princess Jasmine's iconic outfit, a unisex button up shirt inspired by the Magic Carpet design, and my personal favorite, the hooded kimono inspired by the one Jasmine wears in the live action. There are tons of Magic Carpet inspired purses and rug as well as jewelry.
Take a look through the carousel for pieces from Hot Topic and Her Universe.
SHOPDISNEY
There are so many options on the ShopDisney website, it'll make your head spin. There's something for everyone of all ages so chances are you'll find something you like. I especially love the bags by Danielle Nicole.
Are you looking forward to the live-action Aladdin movie? Did anything from any of the of the collection catch your eye? Comment below and share you favorite Aladdin merchandise.

For the latest on geek fashion, beauty, and lifestyle, follow me @GeeknGlitter on Twitter and Instagram.